Employees
Employee Engagement
Our work is of great value. For clients For society And for our employees. We know that simply having work can, in itself, make a big difference. We therefore think it is important to make how engaged our employees are at Vebego as an employer measurable. To measure and monitor our employee engagement, we have chosen to work with Great Place to Work, a methodology that helps companies better understand their organisational culture and improve the work environment. We ask our employees about their perception of leadership, equal opportunities, attention and safety. 

This is how we collect hard evidence for our motto - Great Work - with the result that our companies are entitled to hold the internationally recognised 'Great Place to Work' certificate. Vebego AG in Switzerland was awarded third place in the 'Best Workplaces Europe' election in 2022; Alpheios and Hago Airport Services are 'Great Place to Work' certified.
Employees
The number of permanent employees at the end of 2022 was 31,886. The increase compared to 2021 (25,395) is mainly due to the acquisition of hectas in Germany (including Austria and the Netherlands). 77% of our employees work part-time, 68% are women.
| | | | | |
| --- | --- | --- | --- | --- |
| Number of employees per country | | 2022 | | 2021 |
| | | | | |
| The Netherlands | | 12,335 | | 12,798 |
| Germany | | 10,133 | | 3,769 |
| Switzerland | | 6,754 | | 6,359 |
| Belgium | | 2,664 | | 2,469 |
| | | | | |
| | | 31,886 | | 25,395 |
Education / Appreciative Inquiry
We strengthen the quality and diversity of the organisation by investing in our employees. We see this as the basis for further growth. We take a structured and inclusive approach to talent development, broadening and deepening career opportunities.
We believe it is important that we know where an employee's talent lies. We can then put that talent to the best use for our organisation. Developing talent therefore requires an understanding: of your own talent, ambition, development points and education or training courses an employee can take. We help our employees gain that insight. We use various programmes and tools for this, including View on Talent and Management Drives & AEM-Cube.
View on Talent
By putting the right people in the right places, we create more meaningful jobs.     With View on Talent, we are able to identify talent, predict performance, and discover what it takes to further develop these talents. It is not a one-size-fits-all exercise. Our employees deserve tailor-made guidance and development opportunities that are suitable for them, in which they can learn optimally.    That way, we can build on the existing talents of our employees. At the same time, we are identifying new growth opportunities, while also achieving the goals of the organisation. This allows us to remain forward-thinking in an ever-changing market. We obtain the necessary data and insights about recruitment and development throughout the organisation via a PowerBI dashboard set up in 2022.
Drivers and growth
With Management Drives (a methodology that makes people's drivers visible) and AEM-Cube (an assessment tool that maps how people naturally interact with change and growth), we create understanding and a common language for people to unleash their potential and collaborate on effective and inclusive leadership. By 2022, nearly 600 development assessments had been conducted.
Destination: Future
The importance of attracting and retaining talent in our organisation is ever increasing. Over the next decade, the active working population will consist of five generations. Purpose, innovation, well-being and balance are key areas of focus to engage and bind them. To continue to add value for our employees and for our clients, a conscious commitment to Talent Development (by Leading by Example and organisational learning) is essential. Vebego has had its own internal training programme for this for several years: Destination: Future!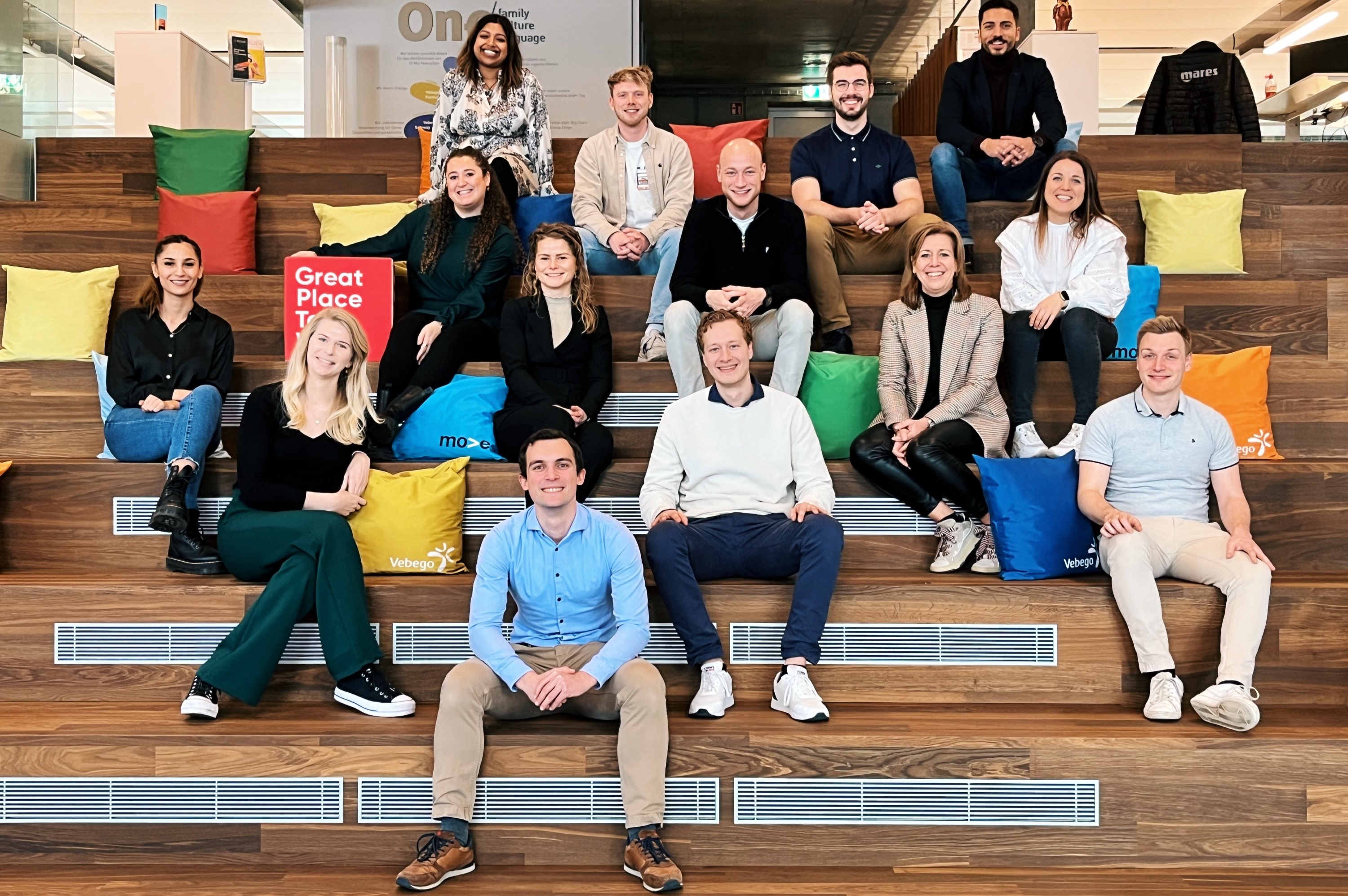 Destination: Future is a learning module in which employees at different levels work together and with themselves. The participants are at different points in their career. There are three groups: the Explorers (young, fresh newcomers), the Navigators (content experts and advanced managers who want to get more out of themselves) and the Challengers (executives and leaders who have made their mark). The three groups face the challenge of getting the best out of themselves, learning from each other, challenging each other and, as ambassadors, taking knowledge, experience and developed competencies into the organisation. They will receive a 'license to change' for this and will use their change power to make Vebego future-proof.
In the fiscal year, 20 Navigators successfully completed the learning module; 12 Explorers started their programme in September 2022. This Vebego Explorer Programme runs until June 2023 and is international for the first time.
Shaping our Culture
Vebego wants to have a positive impact on society by 2025. That is the most important driver to invest in the growth and development of our fine family business. In doing so, it helps us to combine the perspective and working method that are successful and take us further. This means doing more of what works and stopping what is not successful. This is how we are building a future-proof Vebego.
Each transition within Designing our Future has its own approach and timeline, depending on the current context and transition assignment. This requires customisation in the culture approach, so that we are fully aligned with what the company needs. The starting point here is that we use the same models and tools. This allows us as an organisation to learn about the companies and departments. This contributes to creating a common language and helps us to work together more successfully. From defined change challenges, we let our employees think along and provide input in workshops. We use the retrieved content to determine culture themes for the company. These themes include the behaviour we want to reinforce and need to make the change.    In 2022, both Vebego Cleaning Services and Vebego Service & Expertise started working on this process. We want to be able to work as quickly as possible in the spirit of the culture themes raised. To do that, we organise sessions at both organisations.
Diversity & Inclusion
Vebego has been driven by inclusive business ever since its establishment. As an organisation, we believe in the power of differences and therefore underline the importance of diversity. We strive to recognise and embrace every talent. Furthermore, we encourage the employees' need to feel part of a group and to maintain their own identity. These are the core elements of Inclusion.    As with many other organisations, Vebego has a growing focus on attracting diverse talent. But we also see another development. More attention is needed within the diversity policy to retain and develop talent, such as fair rewards and promoting an inclusive work environment. We therefore focus on two main goals:
Increasing gender and cultural diversity in management.

Creating an inclusive culture in the organisation.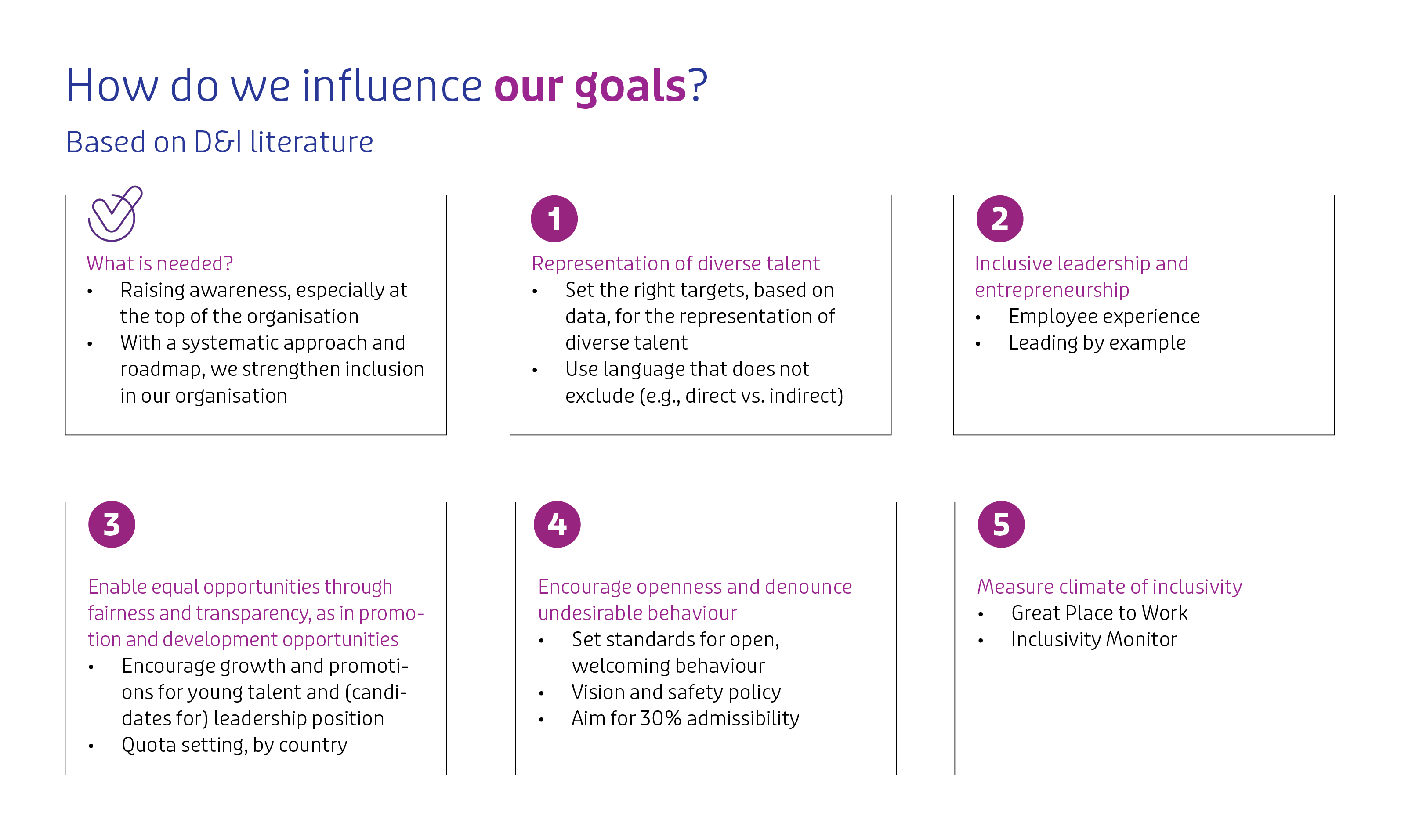 How does Vebego score when it comes to inclusivity?
In November 2022, we conducted an employee scan of our inclusivity climate. Nearly 800 respondents from Switzerland, Belgium and the Netherlands took part in this survey. The employee scan shows that both the majority and minority groups at Vebego score above the limit value of 44%1. This means that we can assume that employees who feel (visibly and/or invisibly) different from others are accepted in the organisation.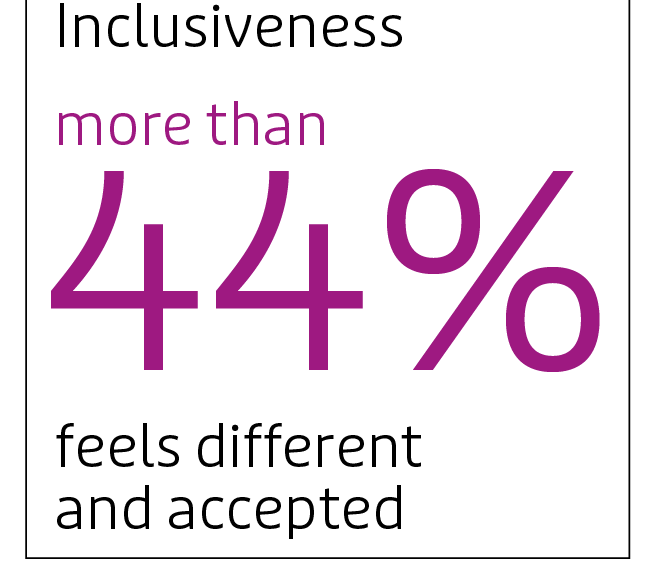 However, the minority group (represented in the study by 200 of the 800 respondents) does experience a less positive inclusivity climate than the majority group. Of the minority group, most feel different because of personality (52%), work experience (30%) or age (24%). This is important data to strengthen our policies on diversity and inclusion.
Employees in all our countries experience the inclusive climate within Vebego the same. There is also no difference between groups2.
1

The 44% is a cut-off point and indicates whether your organisation is in a "danger zone". If your organisation scores below 44%, it is likely to impact the rest of your diversity and inclusion activities.

2

Checked for: Difference in countries - Management position - Gender - Age - Employees with cultural backgrounds - Employees who identify as LGBTQIA+.
More women in executive positions
In 2022, the so-called 'Women on Boards' Directive set out the European Union's gender diversity objectives: at least 40% of the non-executive directorships, or 33% of all board functions, are taken up by the underrepresented gender. Vebego has set itself the goal of meeting this objective by 2025. In 2022, we took a significant step towards that. On 1 January 2022, our Executive Board did not have a female board member, at the end of 2022 one of the seven members was female, and a woman was appointed corporate secretary. By the beginning of 2023, two of the seven members of the Board were women.     Much is also changing for the better at executive positions in companies. Due to the transformation, we are undergoing, new management teams have been appointed in many companies. When recruiting to fill the new management positions in the Netherlands, the primary focus was on attracting female talent. In practice, this meant that when headhunting and searching (for example, using the database of SER Executive Women), we actively approached female potential candidates. We have also made our job postings more woman-friendly and inclusive. That allowed us to achieve a more balanced male-female ratio within at the executive level. Meanwhile, 38% of executives in the Netherlands are women. In Belgium, Germany, Switzerland, there is still a major step to take in this area. In those countries, the management team still consists entirely of men. We will pay a lot of attention to this over the coming period.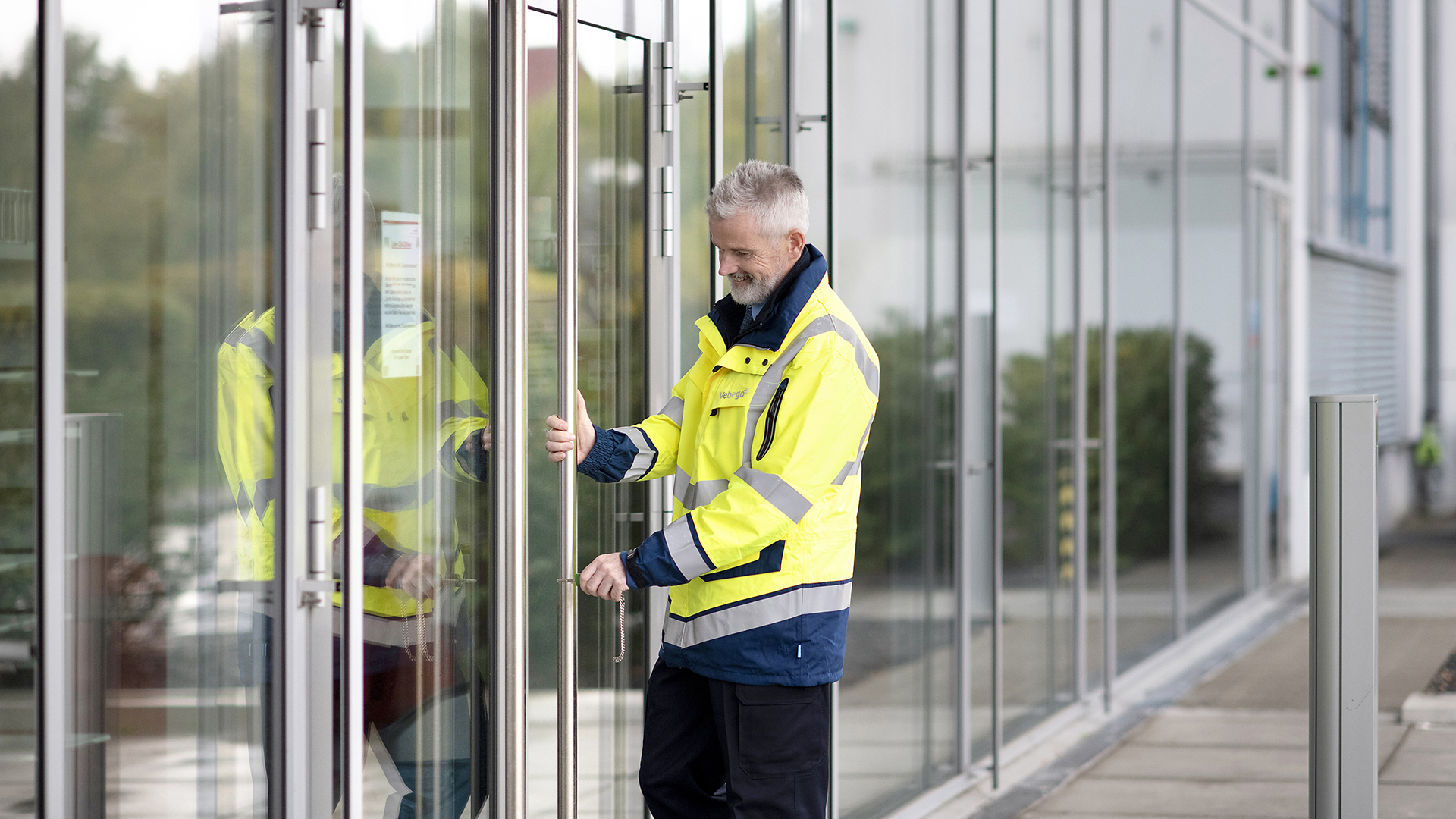 Labour market, the fight for talent
Belgium
The biggest challenge in Belgium is the tight labour market. The country had a record number of open positions in 2022. We as a company have felt that too, at all levels. Potential candidates apply through a selection agency because there is an overload of job openings. A selection agency will make the match for them. That makes the challenge even harder for us. Furthermore, in this tight labour market it is no longer up to the candidate to convince employers, but rather vice versa. How do we ensure that a candidate ultimately chooses our company? Our answer to that is to fully focus on employer branding. We do this, for example, by promoting the Vebego employer brand on our various social media channels. We respond to the needs of the 'new generation': flexibility, good home/work balance and (talent) development, for example.
Switzerland
The fight for talent has also erupted in Switzerland. Time and again, employees are snatched away from us, while we have more difficulty finding qualified employees (at all levels). That's why we've invested a lot of time in employer branding and engaging and tying our employees down. We realise that as an employer you have to 'apply' for employees and not vice versa. The 'Great Place to Work' idea is in line with this.
Germany
The labour market in Germany was very stable in 2022, despite the consequences of the pandemic, the war in Ukraine, the energy crisis and high inflation. The average unemployment rate was 5.3%. That is lower than the years before. The labour supply has thus become even smaller, making it more difficult to recruit additional staff. To make working in the cleaning industry more attractive, the statutory minimum wage for this sector has been increased by more than 17% from 1 October 2022. It is now up to us to present the Vebego brand, which until now has been a complete unknown in the German labour market, as attractive. To that end, we have expanded our social media activities to reach a broader circle of people with job opportunities. Our homepage has recently launched a new career page that presents Vebego as a strong employer brand.
The Netherlands
The shortage in the Dutch labour market is currently breaking records: labour market activity (the extent to which the labour force is actively looking for a job) has never been lower; unemployment has never been as low as in 2022. And the sourcing pressure – a key indicator of scarcity – is unprecedented: recruiters have never approached so many professionals before. The labour market is expected to remain tight in 2023. That is why Vebego in the Netherlands focuses on:
Staying visible in the labour market; structural commitment employer branding

Referral recruitment; deploying our own employees as ambassadors towards the labour market

Attractive offer towards labour market, quick follow-up of candidates

Active sourcing for candidates, focus on latent seekers

Ensuring we retain our employees/talent